Dr. Christopher Mau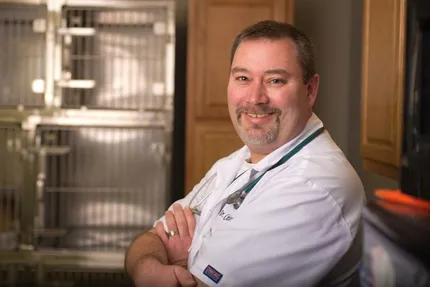 Dr. Mau received his doctor of veterinary medicine from UW-Madison School of Veterinary Medicine in 1999. Since graduating, he has resided in Green Bay and was an emergency vet and partner in the Green Bay Animal Emergency Center (GBAEC). In 2008, he left the GBAEC and opened his own emergency Hospital in Mobile, AL. He had been traveling back and forth working ER shifts at the Alabama hospital. As of 2012, he was traveling less and less to Alabama as he transitioned into strictly administration of the hospital. With this change, Dr. Mau needed something to fill his time here at home in Green Bay. This is how he and his wife, Lisa, formed Paws & Co. After 2 years of doing the walk-in clinics and house calls, they decided Paws had reached a point where it was time to expand, thus the opening of our own clinic space on the east side of Green Bay.
Dr. Mau has been active in the community here in Green Bay. He was the team manager for his son Ryan's soccer team and even served a term as treasurer for the United Soccer of Allouez soccer club. He was a member on the leadership team at Destiny Church and now serves on the media team. Dr. Mau is a member of the AVMA and the Veterinary Emergency & Critical Care Society. He resides in Bellevue with his wife Lisa, their two sons Tyler and Ryan along with their dog Vinnie and cats Spur & Loki.
---
Lisa Mau, Hospital Manager/Partner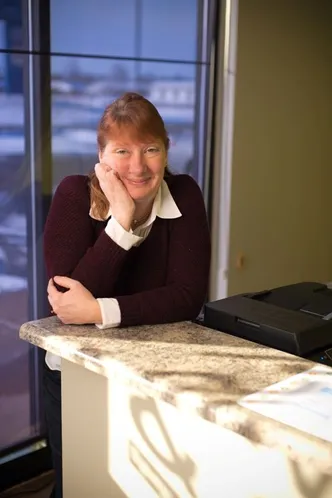 Lisa has been a great supporter of Dr. Chris and his career by keeping the family unit running smoothly all these years of Dr. Chris' crazy ER hours and travels with the Alabama hospital. Now, with the new venture, Paws & Co, she is jumping head first into the world of veterinary medicine. Lisa brings her administration and organizational skills to the table in this partnership with her husband helping make Paws & Co a success now as an actual brick and mortar clinic. With her love of people and pets, she is the prefect front line person representing Paws.
Lisa has been quite involved in the community. While her and Dr. Mau's sons were in grade school, she volunteered on a weekly basis at their schools, served on the PTO including a term as PTO President, and ran the school book fair 3 years in a row. She has also volunteered at Q90fm helping clean the original studio and the same at Freedom House. She currently serves on the first impressions team at Destiny Church. Lisa lives in Bellevue with her husband Dr. Chris, their two sons Tyler and Ryan along with their dog Vinnie and cats Spur & Loki.
---
Ariel Tainsh, Senior Veterinary Assistant
---
Kelly Wagner, Customer Care Coordinator
---
Jazmine Annibale, Assistant
---
Mary Pett, Customer Care Coordinator
---
Michelle Whitcomb, Customer Care Coordinator